The Business of Eating Healthy LLC.
April Bromiley
Galloway, NJ
Available in Atlantic County, Ocean County and Cape May County
businesseatinghealthy@comcast.net
609-892-8188
http://www.raw-veganchef.blogspot.com
Certified Raw Chef
Certified Raw Nutrition Specialist
Certified Life Style Coach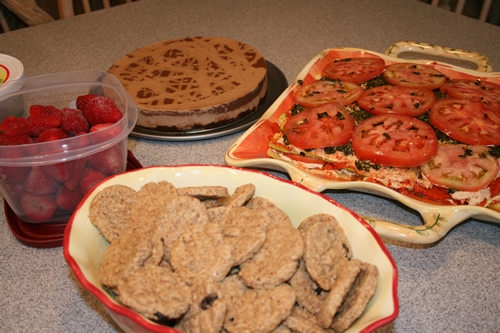 Recipes:
Greenie Great Juice:
1. In a juicer put: 5 oz. Kale, Large handful of Spinach, Thumb sized nob of Ginger, juice of 4 carrots , 1 apple.
2. Now put the juiced vegetables in a blender with a frozen banana, Wheat Grass (I freeze wheat grass into ice cube trays and put a couple in this drink) sprinkle of cinnamon, Tbsp of flax oil, rice milk or coconut milk, a little stevia.
Blend until smooth.
Warm and cold salad:
1. Marinade: Grape seed oil, Dijon Mustard, pepper, salt, oregano, garlic and a Tbsp of apple cider vinegar. Mix it up and prepare other vegetables.
2. Cut up vegetables like Red pepper, broccoli, eggplant, carrots, zucchini, yellow summer squash and mix in with the marinade. Dehydrate for 5-9 hours.
3. Make a dressing: Cut up an Apple, can of chick peas, walnuts, walnut oil, salt and pepper.
4. Mix some greens like romaine, spinach and parsley and mix with apple and walnut mixture.
Now Layer greens and with chick pea mix and dehydrated vegetables on top.
Creamy Salad Dressing for any greens
¼ c Tofutti cream cheese
2 Tbsp Dijon Mustard
2 Tbsp Honey
Juice of 1 orange
3 Tbsp Sesame oil
1 tsp sesame seeds
Salt and Pepper
Mix and pour over Spinach or Romaine or Napa cabbage or any combination you happen to have.
Quick Slaw
A bag of premixed coleslaw you can get at the supermarket
1 can of chickpeas
6 large Tbsp of a jar of 6 bean salad (Usually has kidney beans, chick peas, sting beans etc.)
Generous portions of cilantro and parsley equaling a cup or more.
1 Red onion chopped
Mix ½ c of rice milk with ½ c of Nayonaise the soy mayo substitute
2 Tbsp of agave
Mix and enjoy.
Granola snack vegan
Get a container and layer:
Pumpkin seeds, sesame seeds, sunflower seeds, Goji berries, raisins, almonds, cashews, coconut, granola (make it yourself) chia seeds. Mix and put in snack containers to carry with you.
<![if !supportLineBreakNewLine]> April is certified with Ekaya Institute of Living Food Education through The Raw Vegan Network as a <![endif]>Raw Food Chef, Raw Lifestyle Coach and Raw Nutrition Specialist<![if !supportLineBreakNewLine]><![endif]>