Evelyn Ainlo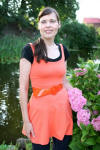 Evelyn Ainlo
Raw food talks, training, consultations.
My personal road to health has been more instictive than forced. Although I was overweight and unsatisfied, my human efforts did not help me much. Then I got some instructions from above at sudden points in my life. The last turn on my road was to become raw vegan. I was wonderfully suprised finding out the difference between being just vegetarian or to be completely raw. No more pale face or iron deficit. The wonderworld opened before me. I learned incredible secrets and had inner knowing that this path is the best one. The results Iím experiencing are: satisfaction and joy, new delicacies and tastes, freedom from fear to gain weight again etc. Iím practically never sick, tired, hungry or tempted to eat something unhealthy. My body is exctatically happy. The best of all this: due to clean and well- cared body I can be spiritually the person God called me to be.
More I study and make researches on these raw food issues, I find shocking facts and scdreaming truths everybody should know about. If you are interested to hear more, invite me to speak in your community or among your friends. I enjoy talking about it, yet I am respectful to yor own path, speed or choices. There is going to be no pressure in my raw food classes!
I can come and talk about the raw food miracles and on some other essential subjects on health in your community, district of friendship, company, church and so on.
Examples of lectures
1.Amazing revealtions on raw food
2.Why everybody should eat at least 50 % raw
3.Why raw food gives the energy, health and ideal weight you have dreamed of
4.Raw food as key to long life
5.Raw food as medicine
6.Practical nuggets to get on raw food
7.Stressfree lifestyle
8.You will find out you original you
9.What does Bible say about raw food
10.Secrets for good digestion and beautiful appearance (they are linked)
11. The foods that are powerful
12. Inspirational stories
13. Playful lifestyle, never boring sports and taking the best of every moment
and much more...
Contact: Telefone 372 52 06 457 (from Tuesday to Saturday)
e-mail: evelynainlo@gmail.com